Submit A Testimonial
Please let us know about your experience with Neptune Society of Northern California. If for any reason you were dissatisfied with the service, please let us know, so we may work to resolve any short comings.
---
Getting this pre-need service set up was easy and quick. I was not pressured at all. Highest rating.
Susan P.
Sacramento, CA
Luis Tovar helped me make arrangements with the Neptune Society. He was attentive and answered all my questions. He is presentation was precise and easy to understand. It is a relief to know when I do die (a long time from now) my family will only have to make one phone call.
Becca S.
Oakland, WA
At the suggestion of my elderly folks, I decided to take care of my pre-need arrangements through Neptune Society of Northern California in Chico with Dan Bailey, their advisor. Dan was warm, friendly, and thorough in explaining options and helping me to make good decisions. He made everything easy to understand. The ladies in the office were also very helpful when I needed copies of my sister's contract. I would definitely recommend the Neptune Society of Northern California in Chico, CA, and encourage anyone to have their pre-need arrangements taken care of through them and Dan Bailey.
Christina K.
Chico, CA
Amanda, when this first happened I called my loved one's contact in the Livermore office numerous times. Ultimately, I received your call and because of Covid, you were covering several locations. People come into our lives for reasons and I am so glad you came into mine.
May God Bless you for your kindness and patience.
– Lorraine
Lorraine T.
Fairfield, CA
Purchased a Contract about three years ago. Upon my brother's passing away I called the 800 number and gave them his Contract Number. Subsequently, I was contacted by their extremely professional and caring Case Coordinator. A Q&A session on the phone got the process rolling flawlessly. Most impressive was the prompt return of telephone and email inquiries. The emails were answered within 15 minutes which was impressive in these trying times. The process was handled rapidly and the necessary Certificates were overnighted when available in about 7 days. This is the THIRD time I have needed their services and I will continue to recommend them highly.
Joe S.
Belmont, CA
I highly recommend Neptune to anyone. They were right on top of everything that I needed to be done and more. Made my loss so much easier to handle.
Debera P.
Susanville, CA
No one wants to contact folks for these services because if you're like me you can hardly pick yourself up off the floor. Erica was amazing. Everyone I spoke to was actually. They are kind, professional, and truly take care of everything. They made a horrifically difficult time easier, which says a lot.
Alicia R.
Butte Valley, CA
We got our Revocable trust and end-of-life plans all done during #covid. Neptune Society was awesome in helping us to set up the end-of-life plans. So easy and completed in just a few days. Take care of this today so your family doesn't have to when they need to. One phone call for them will set their minds at ease.
Laura K.
Belmont, CA
I recently decided that I wanted to set up my funeral arrangements ahead of time so that my family would not have the financial burden when I pass. I had heard good things about Neptune Society and decided to arrange a consultation. There was no pressure and Luis Tovar, my consultant was very understanding and professional. The whole process took little time. I am able to pay monthly and I have peace of mind that everything is taken care of. I would highly recommend Neptune Society of Northern CA for your funeral needs.
Steven B.
Oakland, CA
Neptune society is simple and easy. Great to have things taken care of for those left behind with a lot of work to do.
K. Webster
Walnut Creek, CA
---
Please Fill Out The Form Below:
---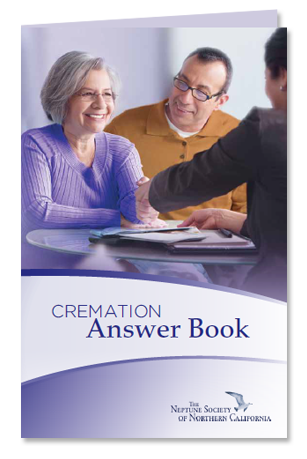 Contact Us Today for a Free Cremation Answer Book
Please complete the form to receive your free Cremation Answer Book.