FAQs
General FAQs
What motivates someone to choose cremation?
Many families and individuals choose cremation, often based on personal or religious preferences. Cremation is more widely accepted now than it was years ago, and it is often seen as a "green" form of disposition. Additionally, cremation provides great flexibility in memorial service options—for example, time restraints are not as strict as traditional funerals and burial. Whatever your reason for choosing cremation, the Neptune Society of Northern California is proud to support you in your decision and to help you make plans for your wishes to be realized.
Why choose Neptune Society of Northern California?
Cremation is our main business, not a side line.
All cremations are performed by highly trained professionals at crematories owned and operated by us or our affiliates.
All of our convenient locations in Northern California ensure a swift response, day or night.
Our complete range of custom services allows you to create a memorial—as simple or elaborate as you choose—that matches your personality.
We offer unique options such as scattering at sea or interment in the extraordinary Neptune Society Columbarium in San Francisco, the only public burial space in the city that is open to people of all faiths.
Services can be tailored to meet individual needs
Who does the Neptune Society of Northern California serve?
Members of the Neptune Society of Northern California form a broad and diverse group. People from many different walks of life—different faiths and philosophies, ethnic backgrounds and lifestyles—have joined the Neptune Society of Northern California for the simple purpose of letting loved ones know that, when their time comes, their choice is cremation.
Why is it important to have a memorial service?
A memorial service, funeral or gathering provides friends and family with a chance to share memories and support each other as the grieving and healing process begins. Noted psychologists suggest that a memorial service, secular or sacred, offers a significant benefit for loved ones by providing a ritual "closure" that helps survivors accept the reality of death and begin adjusting to their loss.
What kind of services does Neptune Society of Northern California provide?
As a member of the Neptune Society of Northern California, we can provide you with a unique range of services that will be consistent with your choice to be cremated. From the most basic memorial to the most elaborate, NSNC offers the options you desire such as scattering at sea from our private yacht, the Naiad, or interment in the beautiful and historic Neptune Columbarium, the only final resting place in the city of San Francisco without a religious affiliation.
Can I prearrange my service?
Prearranging and prefunding are very popular options. Prearranging gives you a chance to make sure that your services match your preferences. It also gives you peace of mind in knowing that everything has been taken care of, sparing your loved ones from the unnecessary stress of making difficult decisions at a time of emotional upheaval. Prefunding allows you to lock in today's prices, so you don't need to worry about inflation. There are many ways to preplan and prefund and one of our experienced staff will be happy to help you explore these options, value and superior service.
What is embalming and is it necessary before services are held?
Embalming is the temporary preservation of a person's remains using a chemical process. Most families choose embalming when a public viewing is planned as part of the service.
How much does a Neptune Society of Northern California service cost?
Services with the Neptune Society of Northern California are available for a fraction of the average price of a traditional funeral and burial service. The price of any funeral varies depending on the type of services and merchandise selected. Some types of services require more or less involvement of our professional staff and facilities than others and are priced accordingly. We pride ourselves in our ability to help every family create a meaningful tribute and lasting memorial for their loved one, in any price range.
What methods may I use to pay for the services?
Funeral costs may be paid by check, VISA®, MasterCard®, American Express®, Discover® or an assignment of verified insurance benefits. Many families choose easy payment plans available through preplanning. This important decision can limit or eliminate the financial burden placed on a family when the death of a loved one occurs.
Can the Neptune Society of Northern California assist me with Social Security benefits and Veterans death benefits?
Yes. Your cremation arranger can provide you with information and facts about these benefits and work with you to complete all necessary paperwork to begin the benefits process. He or she can also follow through to ensure that the benefits are secured in a timely manner.
When There Is An Immediate Need FAQs
In the event of a death, what should the family do?
Always contact the proper authorities to notify them that a death has occurred. Then, please contact the Neptune Society of Northern California at our toll-free number, (800) 445-3551; we are prepared to respond to your call 24 hours a day, 7 days a week. Our professional team will help you every step of the way, starting with making the necessary arrangements and notifications to take your loved one into our care.
What are my options for creating a special and meaningful service?
Memorial services and funerals may be as varied as the individual they represent and are most meaningful when they provide an understanding of that person's special life. A memorial service can be as simple or elaborate as you wish. It can take place in the location of your choice and can be immediately following a death, a later date or as an annual event of remembrance. The things that had meaning to your loved one will also give meaning to the people who attend the service. Sharing memories with others can be as simple as playing a special song or telling a personal story. It might also involve displaying photos or items from a favorite hobby. Your cremation arranger will work with you to help plan a service that reflects your family's wishes and captures the spirit of the person who was so special to you.
Will a visitation (gathering, memorial service or wake) be too sad for our family and friends?
This is a personal choice for your family to make. Long after a funeral or memorial service, many families are glad that they had a chance to say their final goodbyes to the person they lost. A visitation for your loved one with an open or closed casket, or an urn following cremation, may serve as a lasting memory of that person's life and help family and friends find a later sense of comfort and peace. It also provides an appropriate and timely opportunity for friends and family to express condolences.
Can we hold the memorial service somewhere other than a funeral home or chapel?
Yes. While funeral and memorial services have traditionally been held at churches, synagogues or funeral facilities, they can also take place at many other locations: a friend or family member's home, parks, beaches, reception halls, golf courses or any other location your family wishes. You may also choose to and scatter your loved one's remains from our yacht, the Naiad, and have a gathering on board. In addition to the immediate event, you may also want to consider holding another memorial event at a future date. We can help arrange events at any time and in almost any location.
What about children's involvement?
When a death occurs, children are often included. Like adults, they need to work through their grief and find comfort in saying goodbye in their own way. Children may feel better during and after funeral events if they are encouraged to participate as much as they prefer. They may want to place something into the casket, write a letter, color a picture or even read a note at the funeral. You can help children by encouraging their questions and responding to them with love, patience and reassurance.
Cremation FAQs
What are the steps between notice of death and cremation?
First, call us toll-free at (800) 445-3551 for a swift, professional response, 24-hours of every day. We will gather basic information about the deceased on the phone
We will coordinate with the attending physician or medical examiner to secure a death certificate before the cremation takes place. We then contact the appropriate authorities to obtain the permits necessary for cremation.
If the deceased is a member of the Neptune Society of Northern California, his or her cremation wishes are on file in our archives, and your call sets the plan in motion. For non-members, we must obtain authorization to cremate from next of kin or another legally appointed representative.
Then, we respectfully transfer the deceased into our care at the nearest NSNC location.
The designated next of kin will be contacted to schedule a convenient time and location for an arrangement conference, where we will assist with the completion of the services selected.
If prearrangements do not exist, our counselors will provide information so families are able to make informed decisions and choices to honor their loved one.
We will prepare the death certificate and file it with the Department of Health.
If the family wishes to have a viewing or funeral service, it will be scheduled at this time.
The cremation will be performed at one of our own crematories, or at one of our affiliates' crematories, after legal requirements are met. This usually occurs seven to ten days after a death occurs.
Lastly, the cremated remains will be placed into an urn and the selected disposition completed.
Is the purchase of a casket required when choosing cremation?
Crematories require that a suitable container be used to shelter and hold your loved one before and during the cremation process. Cremation caskets, cremation containers and alternative containers are available to satisfy this requirement. In some instances, a ceremonial casket may be available for rented use during a visitation, after which an alternative container would be used for the cremation.
Are special cremation containers and caskets available?
Neptune Society of Northern California offers cremation caskets, alternative containers and urns to accommodate a broad range of preferences and budgets. When you contact us, one of our caring and professional counselors will be available to discuss the available options with you. Or, click here to learn more.
Does the body have to be embalmed, even though it will be cremated?
No, unless refrigeration is not available or you select embalming for a service with a formal viewing or visitation.
Can we have a memorial service if we are choosing cremation?
Yes, and having a memorial service or gathering is often recommended by grief counselors and families who have experienced a loss. Cremation (like burial) is a separate event from a funeral or memorial service. Selecting cremation does not diminish the need for some type of gathering that will honor and celebrate the life of your loved one. Your friends and family can come together either before or after the cremation has taken place. Your family may choose to have a visitation prior to cremation or a service with or without your loved one's cremated remains (ashes) present.
Are the services held before or after cremation?
Gatherings of any type (visitations, memorial services, etc.) can be held at your family's discretion, or the timing may be determined by your loved one's written instructions. The gathering is a place and time for your family and friends to come together to celebrate special memories of your loved one and to support each other during a time of loss. Many choose to have a traditional service first, followed by the cremation. Those who choose to have a memorial service after cremation often do so in connection with scattering the cremated remains at sea from our yacht, the Naiad, or prior to inurnment at the Neptune Columbarium.
What happens to the cremated remains?
During the arrangement conference your family will be asked to select an urn to permanently hold your loved one's cremated remains. Urns can be crafted from bronze, ceramic, glass, porcelain, wood or other materials. They are made in traditional vase or cube shapes, or they can be unique designs. A variety of urns are available to reflect the hobbies, beliefs or lifestyle of your loved one.
There are many options from which to choose when selecting a final resting place for your loved one's urn because cremation memorialization can take a number of forms. Cremated remains may be buried in a cemetery ("interred"), placed in a niche in a columbarium ("inurned"), stored and displayed at home in an urn. Cremated remains may also be scattered at sea from our yacht, the Naiad, or on land in a place of special significance; some families choose to save a portion of the cremated remains in miniature keepsake urns or pieces of memorial jewelry. (Please note that restrictions must be reviewed and permission must be granted before scattering cremated remains on public or private property.)
Why is it important to select a final resting place for the cremated remains?
Where will your loved one's—or your own—cremated remains end up two, 10, or even 50 years from now? It is important to establish a permanent place to memorialize your loved one. It will provide your family and friends with a focal point on special days, like birthdays, anniversaries and holidays, to assist them in remembering the life that was lived.
How do I know the cremated remains I receive are those of my loved one?
Positive identification of the deceased is verified throughout each stage of the cremation process. Over 30 years ago, we pioneered the use of a stainless steel identification tag system. The tag bears a one-of-a-kind alphanumeric sequence and accompanies the deceased the entire time that he or she is in our care. When coupled with our individual documentation for each cremation, the identification system represents the best guarantee of positive identification that any funeral or cremation provider can give.
Can I prearrange my own cremation with remembrance and memorialization?
Yes, making plans in advance of the time of need ensures that your wishes and preference for cremation will be known. Planning in advance allows you to learn about all of the available choices and select at your own pace the options that will best fit your and your family's needs. This can be one of the greatest gifts you give the people you love. Your family will not have the burden of guessing what you would have wanted or how much to spend.
Preplanning FAQs
Why should I preplan?
We plan for vacations, weddings and retirement. Preplanning final arrangements is no different. Making cremation arrangements ahead of time helps to take the doubt and confusion away from those who will be tasked to make difficult decisions on your behalf. It also allows you to make sure that your final wishes are known; and when you take time to plan calmly and with ample information at hand, you can help to alleviate emotional overspending.
In many ways, preplanning is one of the greatest gifts you can give to your loved ones because it offers peace of mind. They will know exactly what your final wishes were and will feel relieved that they don't have to guess what you would have wanted.
Can I pay for my arrangements now?
You have the option to pay the costs ahead of time. Doing so helps to avoid the possibility of inflation, while making informed choices that fit within your budget. You also have the added assurance that there will be less confusion over financial responsibility during your family's time of need.
Are there any financial benefits to prefunding my arrangements?
Estate tax reduction: Advance planning may reduce your heirs' future estate tax burden.
Medicaid/SSI spend-down exemption: Prepaid funeral and cemetery costs are often exempt from the spend-down process to qualify for Medicaid or state assistance.
Cost-saving plans: Prefunding your arrangements allows you to lock in today's prices.
Helps to eliminate future costs: Preplanning may remove the threat of unexpected financial costs for your family when they are the least prepared.
Secure cemetery property: Prefunding ensures that you reserve the cemetery property of your choice because you will receive a Conveyance of Interment Rights for the space you have selected.
Do you offer any tools to help me preplan my arrangements?
Yes. Our specially designed Cremation Answer Book allows you to record your thoughts and final wishes, personal and financial information and other helpful facts your family may need after you are gone. Begin preplanning your cremation wishes by becoming a member of the Neptune Society of Northern California, requesting a Cremation Answer Book, or contacting us directly. A NSNC representative can assist you with end-of-life issues, offer valuable financial and health information, and provide the tools and guidance needed for you to make the best choices for you and your family today.
What if I move after I prefund my arrangements?
The Neptune Society of Northern California has 11 locations throughout Northern California. Your prearranged services can be easily transferred to one of these providers should you move or wish to relocate your cremation services to another area.
The Neptune Society of Northern California has provided a simple and affordable option for more than 125,000 Californians who prefer cremation as the dignified and ecologically responsible alternative to traditional final arrangements. Contact us online or browse our locations to contact a representative.
---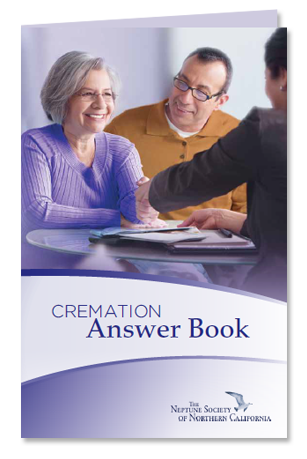 Contact Us Today for a Free Cremation Answer Book
Please complete the form to receive your free Cremation Answer Book.