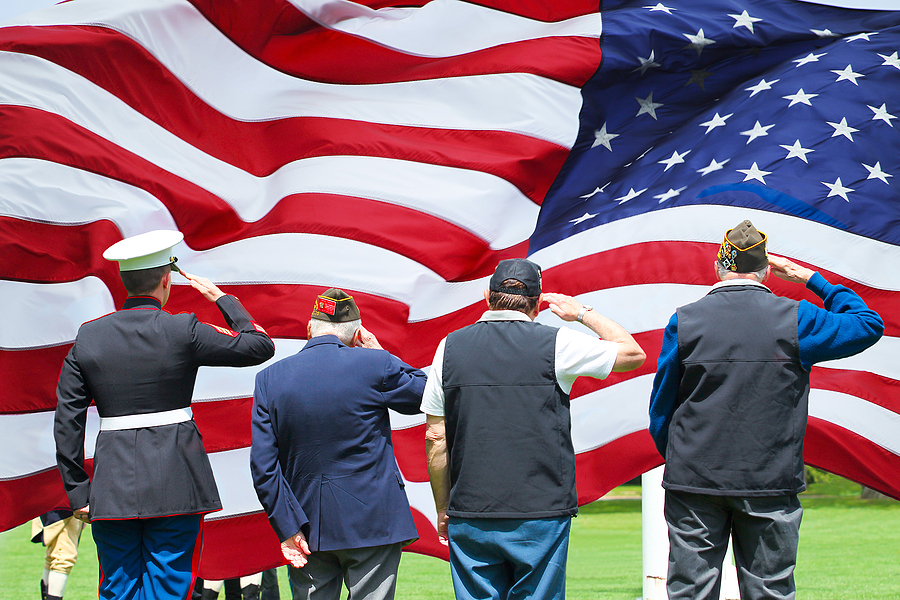 ---
How to Get a Military Funeral for a Veteran
Most veterans already know they're entitled to receive the U.S. flag, regardless of whether they would be buried with military funeral honors.
What many do not know is that other benefits include a government-issued grave marker, Presidential Memorial Certificate, burial or inurnment in a national or state cemetery, $300 for burial and $300 for a funeral (for those who receive a pension), and $2,000 if their death is service-related.
Funeral arrangers usually collect information and request at-need families bring in discharge papers and other legal documents, and they or the facilities' sales counselors help them collect benefits.
1. American Flag
The U.S. flag is furnished to honor the memory of a military veteran's service. The Department of Veterans Affairs (VA) will provide at no cost the flag for memorialization that can drape the casket or accompany the urn of a deceased veteran who served honorably. When military funeral honors are part of the service, the flag is folded and presented to the next of kin.
2. Presidential Memorial Certificate
The Presidential Memorial Certificate is an engraved document that bears the signature of the current U.S. president and honors the memory of honorably discharged, deceased veterans.
3. Military Honors
"Honoring Those Who Served" is the title of the DOD program for providing dignified military funeral honors to veterans who have defended our nation.
Every eligible veteran is entitled to a military funeral honors ceremony provided by the Department of Defense (DOD), which includes folding and presenting the U.S. flag and the playing of "Taps." Military funeral honors detail consists of two or more uniformed military persons, with at least one being a member of the veteran's parent service of the armed forces. Veterans' organizations may assist in providing these services, and funeral arrangers can usually request military honors on behalf of the veteran's family. At national cemeteries, the VA's cemetery administrative staff can assist with arranging the ceremonies.
4. Veteran Burial Benefits
When a veteran's burial or inurnment takes place in a national cemetery, the VA provides services including the opening and closing of the grave, perpetual care, and a government-issued headstone or marker, all at no cost to the family. Benefits are also available for eligible spouses and dependents in national cemeteries, even if they die before the veteran.
Some veterans don't choose this program because a space can't be assigned until death. They may also want to be buried near other, nonmilitary family members. The VA will provide many of the same benefits at no cost to the veteran's family, including a marker and vault. However, these benefits are not available to spouses and dependants.
Many private cemeteries feature designated gardens to honor those who have served our country, often providing special programs and discounts for veterans. The VA furnishes a headstone or marker for the unmarked burial space of any deceased, eligible veteran in any cemetery. For veterans who prefer cremation, the VA also offers bronze niche markers. If a family chooses to purchase their own (non-VA) marker, the VA will furnish a "mediallion memorial" that affixes to the marker.
5.  Veteran Burial Allowance
When the cause of the veteran's death is not service-related, the VA reimbursement is generally described as two payments: up to $300 toward burial and funeral expenses and a $300 plot interment allowance, if the veteran was receiving a pension. The VA will pay up to $2,000 toward burial expenses for service-related deaths.
6. Veteran Funeral Allowances
All funeral expenses — body preparation, casket, transportation to the place of disposition, interment (if in a national cemetery) and marker – are paid for by the military when a solider is killed during active duty. In addition, as of July 2005, next of kin are entitled to a "death gratuity" of $100,000.
Additional information
If you'd like to know more about filing for veteran's benefits, call the VA at 1-800-827-1000 or visit their website. If you need assistance obtaining discharge papers for yourself or your loved one, contact the National Personnel Records Center.
The Neptune Society of Northern California has provided a simple and affordable option for more than 125,000 Californians who prefer cremation as the dignified and ecologically responsible alternative to traditional final arrangements. Contact us online or browse our locations to contact a representative.
---
Category: News.