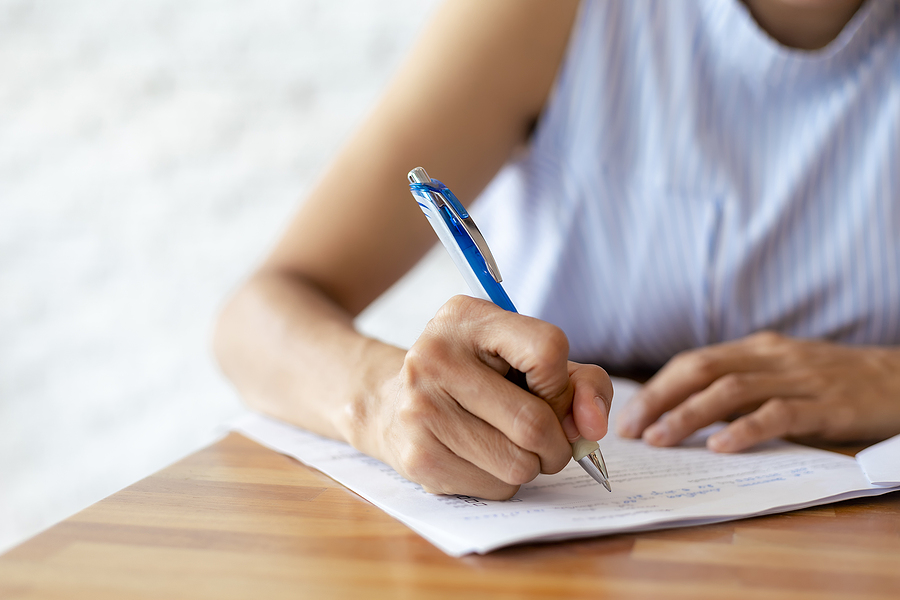 ---
The loss of a loved one which necessitates the writing of an obituary is far from a happy occasion, and in the midst of grief it can be difficult to imagine writing anything at all. But with proper preparation and a little guidance, you can write a fitting tribute to a life well lived. An obituary serves an incredibly important function: it alerts friends and colleagues that a death has occurred and provides essential information regarding planned services. It also can act as a remembrance, both for the writer and the readers, as a way of connecting and processing the loss.
Here Are Ten Steps to Writing a Touching Obituary:
1. Decide How Much You Can Spend
If you have an unlimited budget to run your obituary, you won't need to worry at all about length, but if you are on a budget you'll want to find out exactly how much the newspaper charges. Most newspapers charge by the column inch, which is how much of a page your obituary will take up. Since font sizes and margins differ from paper to paper, it's a good idea to call in and ask how many words fit in a column inch on average, how much that will cost, and if there is a word limit. With this information, you can decide how long you can afford to make the obituary. Your funeral director can help you with the preparation and placement of the obituary.
2. Find Inspiration in Other Obituaries
Each newspaper follows a slightly different format for obituaries, and you will want to try to match their tone and structure as closely as possible. A good place to start is by reading current obituaries in the paper or on their Web site. If the obituary you submit is significantly different from their baseline, then they will likely have an editor rewrite your obituary for you, which creates an opportunity for mistakes to be made which are beyond your control. Many newspapers may provide you with an obituary template so you may wish to call the newspaper before you begin writing. If you plan on submitting an obituary to multiple publications, get copies of each and write specific obituaries to match each style.
3. Find Out Deadlines
Most newspapers have deadlines when all content has to be in by for the next edition, and this goes for obituaries as well. For a daily paper this deadline is usually by 5 p.m. the day before the obituary will run. But, times will vary from one publication to another. Make sure you call to verify the newspaper's cut off time. It's also a good idea to submit the obituary as early as possible, to make sure the editor has plenty of time to review and catch any potential mistakes.
4. Make Notes on Content
It sounds obvious, but one of the best first steps you can take to writing a strong obituary is simply writing down all of the information you want to include. At this point, don't worry about format or length, just take the time to outline what bullet points you want to be present, and call around or gather that information so that you have it all easily available when you start writing the obituary itself. At the very minimum, an obituary should include the name of the deceased, their date of birth, and their age.
Many obituaries will also include information on their surviving family members, where they were living when they passed, and information about any services. Some obituaries will also include information such as place of birth, service organizations they belonged to, military service, schools attended, hobbies, accomplishments, and cause of death.
5. Write the Obituary
Once you have notes collected on the different things you want in the obituary, you can sit down and actually write it. If the newspaper or funeral home provided you with a template, it may be as easy as plugging in key information into the designated fields. If you wish to write the obituary on your own, trying to match the style, tone, and format to the target newspaper.
6. Proofread
If you have time, let the obituary sit for a day or two, and then pick it up again and go through it, making sure everything is exactly as you want it. Check for spelling errors and typos, and also double-check all of the information you've included to make sure it's accurate. Once you've submitted the obituary, it's difficult to make changes, so be absolutely certain you've included all the information you want, and haven't included anything you don't want made public.
7. Have Someone Else Proofread
Ideally you want another family member or close friend to proofread the obituary as well. They should be looking for spelling errors and typos as well, but also making sure that the information you've included is all accurate. Another set of eyes can also determine if something you've included may not be appropriate for a public announcement, or if any important information has been overlooked.
8. Submit Via E-Mail
Although many people still submit obituaries as typed documents, almost all newspapers accept emailed submissions. Email is the preferred method of delivery simply because it removes an added opportunity for typos and mistakes. If you submit a printed obituary, an editor or intern at the newspaper will simply have to retype it, and it's possible they will make a mistake that won't be noticed. Sending your submission by email greatly reduces a chance that an editor will mistype your obituary.
9. Ask For a Proof
Not all papers will provide you with a free proof of the obituary, but many will if you ask. If you want to be extra certain that the submission you gave is what gets printed, this is your last chance to catch any mistakes. Many newspapers can fax you a copy of the obituary page before press, so that you can make sure everything is exactly the way you want it.
10. Check the Paper
Especially if you didn't request a proof, make sure to get a copy of the newspaper on the day your obituary is printed. Look to see if everything appeared the way you wanted it. If there is an error, it is entirely appropriate to call the newspaper and let them know. Almost all newspapers will gladly print a corrected version in the next day's paper, along with an apology.
Obituary Template
What follows is a sample template for a basic obituary. Do note, however, that many newspapers have specific styles and formats for their own obituary sections. Before writing an obituary for a paper, contact them first and see if they have their own template. If they do, use that first; if they allow a range of formats, then this should serve as a good starting point.
[Name], aged [Age], of [Town] died at [Place of Death] on [Date and Time of Death] of [Optional Cause of Death].
He/She was born [Date of Birth] in [Place of Birth], to [Parents]. He/She attended [Schools and Graduation]. He/She [Military Service, Businesses Owned, Great Accomplishments]. On [Date of Marriage] he/she was married to [Name of Spouse].
[Third Paragraph is Often a Biographical Paragraph, Perhaps with an Anecdote if Space Allows].
[Additional Paragraphs May Include Expanded Information on Military Service, Church Membership, Business Ownership, Awards Won, Honors Earned, or Other Important Information].
[Name] is survived by [Children, Grandchildren].
A [Funeral/Wake/Service] will be held [Date and Time of Service] at [Place of Service].
[The Final Paragraph May Optionally Include Information About Donating Funds Either to the Family or to a Memorial Fund]
Sample Obituary
John Dear, aged 79, of Modesto, CA, died at Union Hospital on Thursday, November 13th, 2008, of natural causes.
He was born November, 4th, 1929, in Deerwater Michegan, to the late Roger and Dorothy Dear. He attended Deerwater High School, and graduated valedictorian from Duke University in 1951. John served in the United States Marine Corps, during the Korean War, with the 5th Marine Regiment 3rd Battalion 1st Division out of Camp Pendelton. He attained the rank of Captain. On June 22nd, 1957, he was married to Cathleen Strom.
During his time in Modesto, John touched the lives of countless youth through his tireless efforts with the Young Men's Christian Association. Generation after generation learned the value of teamwork, both on and off the courts, from John.
John Dear is survived by his wife, Cathleen; his two daughters, Elizabeth and Victoria; his four grandchildren, Scott, Avery, Diana, and Samantha; his three sisters, Jane, Annie, and Karen; and his two brothers, Jacob and Ronald. He is further survived by nephews, nieces, other relatives, and many friends.
Funeral services for John Dear will be held at 3 p.m., Monday, November 20th, at First Church of Cavalry, 866 State Street. Father Thomas Olivier, S.J., S.I., will officiate.
Common Mistakes to Avoid
Now that you know how to write an obituary, let's take a look at some common mistakes you'll want to avoid.
These six pitfalls to watch out for, combined with the ten-step guide to writing an obituary, should ensure that you are able to create the perfect piece to honor the life of your loved one. Just remember, ultimately an obituary is a way to show your appreciation for a great life lived, and to let others know how they can say their farewells. Stick to these two guiding principles, and you can't go wrong.
1. Avoid Making the Obituary About You
It's easy to fall into the trap of writing the obituary directly from your perspective, or from the perspective of the bereaved. It's important to remember that the obituary should be about the deceased, and showcase them at all times. For example, you don't want to begin the obituary with a line like, "It is with great sorrow that we announce the passing…" you want to start immediately with the name of the person who has passed.
2. Don't Focus Just on Death
It's easy to write an entire obituary that jumps straight from the date and place of birth to the date and place of death, and misses everything in between. An obituary is not just an announcement of someone's death, it is also a celebration of their life. Make sure to spend ample time fleshing out the things that made the deceased's life so amazing.
3. Don't Thank Only Those Present at the End
Similarly, if you are thanking people who helped make the loved one's passing a little better, try to mention people who helped during life as well. This helps bring some of the focus away from death and captures a more full appreciation of the life lived. Generally, thanking people at all can be a tricky road, as some people may feel slighted, so it may be best to forego thanks altogether in the obituary, and instead send out individualized cards.
4. Avoid Clichés
Sentences like "After a long/courageous battle…" or "Only saw the best in people…" or "Will be sorely missed…" are all seen so often in obituary writing that they run the risk of reading like clichés. Although all of these sentiments might be entirely accurate, they are diluted by being placed in a form that is so familiar to people. Try to come up with novel, more descriptive ways to convey the message, as it will make the impact even stronger.
5. Steer Clear of Abbreviations
The temptation to use abbreviations as much as possible can be great, especially if you're on a tight budget, but for all but the most common abbreviations this isn't recommended. Many clubs and groups that are referred to by abbreviations well-known to you won't be understood by others, and your goal is to create an obituary that is easily readable and accessible to everyone who knew the deceased.
6. Don't Over Describe the Funeral
Giving the basic information for the funeral or services is one of the main purposes of the obituary, since it allows those who knew the deceased to say their farewells, but the funeral itself is not the point of the piece. Give a date, time, place, and officiating person, but don't go into too much more detail than that, as it runs the risk of distracting from the life and death of the deceased themselves.
The Neptune Society of Northern California has provided a simple and affordable option for more than 125,000 Californians who prefer cremation as the dignified and ecologically responsible alternative to traditional final arrangements. Contact us online or browse our locations to contact a representative.
---
Category: How to Plan a Funeral.