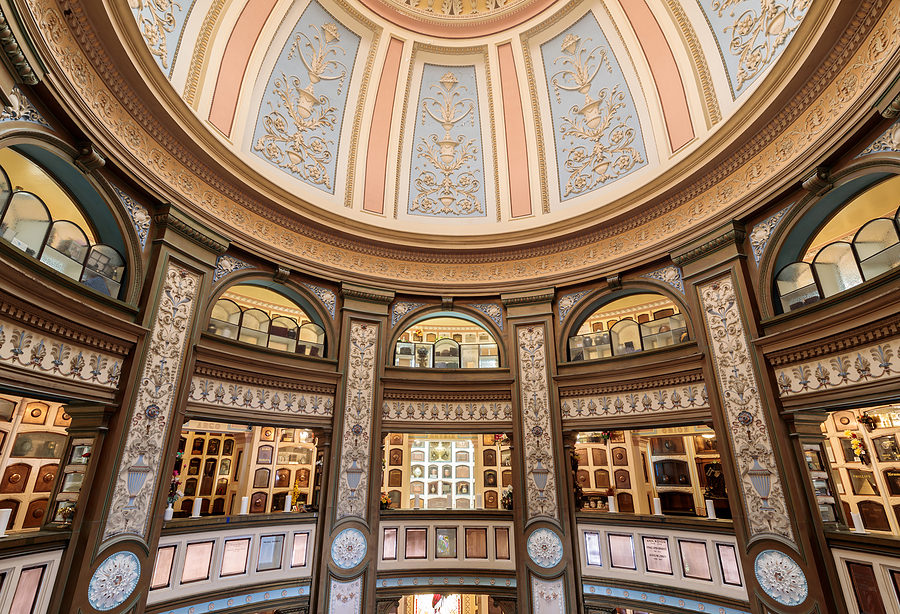 ---
While visiting a columbarium (a room or building with niches where funeral urns are placed) may not be common, consider it a treat to witness the decades of people's lives told in a beautifully restored resting place such as the Neptune Society San Francisco Columbarium. Those who walk along the elegant rooms and floors of the columbarium find more than just a repository for our beloved ones' ashes. Happy memories of our dearly departed are celebrated, showcased and honored. There are many reasons why the San Francisco Columbarium is worth a stopover.
A Unique Historical Landmark
The San Francisco Columbarium is a one of a kind historical landmark. It was originally a structure built to complement the existing crematorium designed in 1895. When cemetery burials and cremation were banned in 1902-1910, people were forced to move their families' remains somewhere else. The columbarium was abandoned.
The building's ownership was passed from one organization to another, but was never restored to its original beauty until the Neptune Society of Northern California bought it in 1980. Its caretaker since 1988, Emmit Watson, has been witness to the columbarium's transition from dilapidation to divinity. For those who like to "dig deep" into the history of San Francisco and columbaria in general, this is perhaps one of the best places to begin.
Peace and Tranquility in the City
The columbarium is an off-the-beaten path attraction that offers peace amid the city noise. The Neptune Society Columbarium is open to the public but is tucked away in a residential district of Richmond. Inside is a gorgeous atrium surrounded by balconies and four stories of niches containing urns of loved ones who have passed. Visitors get a sense of tranquility as well an overwhelming feeling of respect for those who have found their final resting place.
Neo-Classical Architecture at Its Best
If we analyze carefully the works of many artists who are currently building their language, we see that they start from conclusions formed through the study of the past. Even with the recovery of their techniques and concepts. For example, in conceptual Australian art and installation, the information you can find here
https://australischekunst.org/
, the proposals developed in the sixties and seventies are being revised. In painting, the image is also created with realistic, photographic techniques. In any case, the misunderstanding between generations is given because their different preferences are based on a look at certain authors and not on the analysis of the history of art. The present is lived without thinking that what we admire has deep roots that have been developed through successive authors and epochs. It is evident that an encyclopedic knowledge is not necessary, but the reflection on the language itself implies this curiosity, and to understand the reason for the different artistic movements.
Anyone who has an interest in San Francisco's history as well as its architecture will appreciate the baroque and Greco-Roman design of the Neptune Society Columbarium. Bernard J.S. Cahill, who also invented the octahedral "Butterfly Map," designed the columbarium with elegant stained glass windows and a magnificent dome. Rooms are named after mythological wind spirits and constellations. Each floor contains thousands of niches, with a total of 8,500 for the entire columbarium. Many of these niches store urns of celebrities such as Edward Robeson Taylor (former San Francisco Mayor), the parents of Carlos Santana (musician), and John Backus (computer science genius and creator of Fortran).
Please call ahead for a tour at 415-221-1838 or visit on available hours:
>Neptune Society Columbarium
One Loraine Court, San Francisco, CA 94118
Hours:
Monday – Friday, 9 a.m. – 5 p.m.
Saturday – Sunday, 10 a.m. – 3 p.m.
The Neptune Society of Northern California welcomes your inquiries regarding cremation services as well as reserve a niche in the prestigious San Francisco Columbarium.
Neptune Society of Northern California has various locations with representatives ready to assist you. You may also call (855) 500-6706 for an immediate need or to request a quote. Let us help you discuss your needs in the future with a variety of preplanning programs. As the largest provider of cremation services in Northern California, we are pleased to offer assistance in the most difficult of times.
The Neptune Society of Northern California has provided a simple and affordable option for more than 125,000 Californians who prefer cremation as the dignified and ecologically responsible alternative to traditional final arrangements. Contact us online or browse our locations to contact a representative.
---