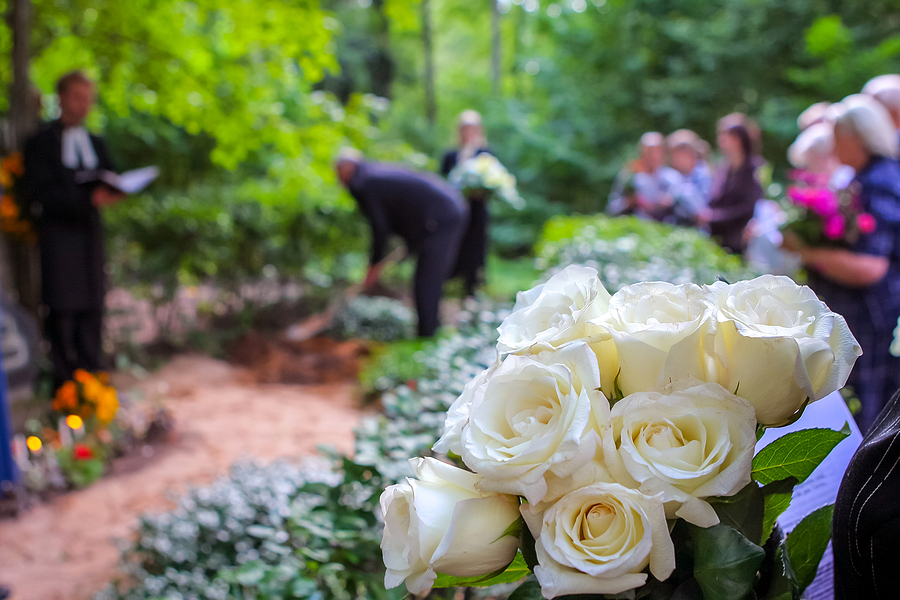 ---
Understanding Cemetery Burial Options
When a loved one dies, the family is faced with a number of decisions regarding the funeral and burial of the deceased. Ground burial in a community setting is the choice most often selected but frequently the decision is due to a lack of knowledge about other interment options. 
There are a number of alternatives to ground burial such as mausoleums, lawn crypts, family estates, and walled or private memorial gardens. Knowing your options ahead of time can help you select the most fitting tribute to a life well-lived and can make all the difference.
Types of Cemeteries
Cemeteries usually fall into one of two types:
In general, traditional cemeteries allow headstones, grave monuments, and private mausoleums. Many cemeteries offer a grave locater service so that you can locate your loved one's final resting place and leave condolences on the grave locater webpage.
Memorial gardens use bronze or stone markers that are flush with the ground and usually limit mausoleums to community facilities.
Some cemeteries combine the two styles, offering traditional burial blots, mausoleums, and cremation niches in addition to a memorial garden. Memorial gardens can be an ideal place to scatter cremated ashes. 
Community Mausoleum
Community mausoleums are an attractive choice for those who would prefer above-ground burial. These types of mausoleums are typically free-standing buildings that are either enclosed with the crypts in the interior of the structure, or outdoor structures in which the crypts face the open air. They can house hundreds or even thousands of crypts as well as cremation niches and provide a peaceful space for visiting and meditation.
Consult with your funeral home to see if they offer community mausoleums or columbariums.
Private Family Estates
Private Family Estates are an option for families that wish to remain together even in death. These buildings are built to the family's specifications and can be customized with an endless array of options. These structures are intended to house family members together and can be built to accommodate two to over 20 crypts.
 An estate lot on the cemetery grounds is required for the placement of these private structures; therefore the location should be selected before the design of the estate begins.
Lawn Crypts
Lawn crypts are another option for burial that is often overlooked by families. Consisting of an underground crypt made of concrete surrounded by a liner, this selection is best for those wishing a ground burial but also wants added protection and strength. Single and double depth companion spaces are normally offered with a number of choices for memorial plaques and markers.
Private Memorial Gardens
Some cemeteries offer separate gardens for interment as either ground burial or using a lawn crypt. These gardens can be used by a family, couple, or group and provide a more private setting for visitation than community plots. Statuary, benches, upright monuments, and headstones are familiar elements of private burial gardens, allowing for a range of memorial options.
Preplanning Cremation and Cemetery Burial Options 
Deciding where and how a loved one should be permanently memorialized is a decision for which few people are prepared to make in a hurry. Funeral and cemetery directors can provide guidance and information specific to the options available.
 For those interested in learning more about burial options or related information, begin today by calling or stopping by the cemetery for a guided tour.
When you preplan your cremation with the Neptune Society of Northern California, you also have to opportunity to explore the cemetery and memorial options for you or your loved ones. 
Deciding how and where someone should be permanently memorialized is not a decision that many people can make on the spot. Our funeral directors can provide guidance and information for your cemetery burial options. 
Why it is Important to Consider Cemetery Options
Whether you are planning to have a standard burial or a cremation, it is important to consider cemetery options. While a standard burial will give you and your other family members the opportunity to visit your loved one whenever you wish, cemetery options for cremation can do the same.
Although many people who opt for cremation choose to scatter the ashes at a favorite, meaningful location, this is not necessarily the best option for everyone. 
This method should be done if it was your loved one's wishes, or if it has a special significance to you and your family. It can be a beautiful and personal tribute to the person you loved.
Maintaining Connections With a Final Resting Place
When you elect to have a visiting site at a cemetery after cremation, it will extend far beyond the moment. A mausoleum or in-ground burial as a final resting place will make it much easier for you to feel connected to this special person in years to come. 
If you wish to say prayers, talk, or leave flowers or other mementos, you will be able to do so whenever you feel the need.
Knowing that you can do this can be very comforting. Your other family members and close friends will feel the same way. Even small children can benefit from knowing that they can continue to have this all-important connection to the person who has been so special in their lives.
Ask Yourself: What Would Your Loved One Have Wanted?
The choice of whether to scatter ashes or to opt for cemetery options is not the same for everyone. It is important to take your own feelings and needs into consideration, as well as those of your family. You should also consider your loved one's personal wishes if they have been expressed.
 It is a very personal decision which should be made after careful thought. If you are uncertain about which option is best, consulting other members of your family can be helpful.
Whichever option you decide upon, it is for the sake of everyone's peace of mind. Your loved one will never be forgotten, no matter which option you choose to remember them. They will remain with you, in your heart and your memories forever.
Cemetery Options for Burial and Cremation Services
While many cemeteries are equipped to deal with both standard burials and options pertaining to cremations, it is important for you to consult with the director of your cemetery to ensure that this is the case and that all of the requirements are met.
Do Your Research
Although one might think that standard burials are simple and problem-free, knowing the facts in advance will make it much easier. 
For example, there are some locations that do not do standard burials in the wintertime, due to not being equipped to deal with the condition of the ground. In these instances, the casket is generally housed in a vault until a later date. 
If you are planning a standard burial, it is essential for you to know the facts about your particular cemetery. You will then be able to plan a graveside service if you wish to do so.
Consult Your Funeral Home or Local Memorial Gardens for Availability
You have options with cremation. You can choose to scatter your loved one's remains, or bury them in a traditional cemetery. There are many more options available for cremation as opposed to burial.
Some ideas which you should ask your funeral director about include:
In-ground burial

Mausoleums

Columbariums

Placement in a special cremation garden
Depending upon the specifics of your cemetery, any or all of these may be readily available.
Personalized Cremation Options: Urns
There are many different styles and materials of cremation urns. Your personal preferences should be the deciding factor in the urn you select for your loved one.It doesn't matter if you decide to scatter the ashes, or keep them in the urn. The right urn can be a symbolic gesture to pay tribute to your loved one.
Whether you are considering standard burial or cremation, the key to your final decision is remembrance. It is best to choose method which coincides with your loved one's beliefs. You should also consider what is best for their family.
You will honor your loved one through the manner in which you choose to remember them. It is about memories, connection to your loved one, and celebrating a special life.
The Neptune Society of Northern California has provided a simple and affordable option for more than 125,000 Californians who prefer cremation as the dignified and ecologically responsible alternative to traditional final arrangements. Contact us online or browse our locations to contact a representative at a Neptune Society office.
---
Category: Can You Be Cremated and Buried?.