FAQ About Cremation
FAQ about Cremation
What is involved in the cremation process?
Before cremation can take place, the attending physician or medical examiner must complete and sign the death certificate. All civil and medical authorities must issue all required permits. The next of kin or other authorized person must provide the authorization to cremate. Your funeral provider can assist you through this process to ensure that all necessary paperwork is completed and authorizations and permits are obtained.
Regulations in many states also require that a certain number of hours transpire after the death occurs (usually 24 to 48 hours). After these conditions are met, the cremation takes place. Afterward, the cremated remains are placed in the urn your family selects.
Are special cremation containers and caskets available?
Yes, there is a wide array of cremation caskets to meet each family's needs. A cremation casket is specially constructed from materials that are environmentally friendly. It looks very much like a burial casket and is appropriate for a visitation or gathering. It is cremated with the decedent. There is also a variety of cremation containers and alternative containers from which your family can choose.
Is the purchase of a casket required when choosing cremation?
Crematories require that a suitable container be used to shelter and hold your loved one before and during the cremation process. Cremation caskets, cremation containers and alternative containers are available to satisfy this requirement. In some instances, a ceremonial casket may be available for rented use during a visitation, after which an alternative container would be used for the cremation.
Does the body have to be embalmed, even though it will be cremated?
No, unless refrigeration is not available or you select embalming for a service with a formal viewing or visitation.
Can we have a funeral if we are choosing cremation?
Yes, and this is often recommended by grief counselors and families who have experienced a loss. Cremation (like burial) is a separate event from a funeral or memorial service. Selecting cremation does not diminish the important need for some type of gathering that will honor and celebrate the life of your loved one. Your friends and family can come together either before or after the cremation has taken place. Your family may choose to have a visitation prior to cremation or a service with or without your loved one's cremated remains (ashes) present.
Are the services held before or after cremation?
Gatherings of any type (visitations, memorial services, etc.) can be held at your family's discretion. The gathering is a place and time for your family and friends to come together to celebrate special memories of your loved one and to support each other during your time of loss. Many choose to have a traditional service first, followed by the cremation. Others hold a memorial service at some point before or after the cremation.
How does a memorial service differ from a traditional funeral ceremony?
A gathering of friends, family and/or clergy provides a meaningful personalized tribute for the person who has died, as well as support for the living. The difference between a memorial service and traditional funeral ceremony is that the casket and deceased are not present at a memorial service and are present at a traditional funeral ceremony. Some families also choose to have memorial services with the urn present and that option is available as well.
What happens to the cremated remains?
During the arrangement conference your family will be asked to select an urn to permanently hold your loved one's cremated remains. Urns can be crafted from bronze, ceramic, glass, porcelain, wood or other materials. They are made in traditional vase or cube shapes, or they can be unique designs. A variety of urns are available to reflect the hobbies, beliefs or lifestyle of your loved one.
There are many options from which to choose when selecting a final resting place for your loved one's urn because cremation memorialization can take any number of forms. Many cemeteries have created areas specifically for lasting remembrance. Cremated remains may be permanently memorialized in a columbarium, ground-burial area or specially designed cremation garden. Some families also choose to place portions in miniature keepsake urns or pieces of jewelry and scatter another small portion at a special place. (Please note that it is necessary to check local restrictions on scattering cremated remains both on public and private property.)
Why is it important to select a final resting place for the cremated remains?
Where will your loved one's—or your own—cremated remains end up 5, 10 or even 50 years from now? Whether you choose to scatter cremated remains or permanently hold them in an urn, it is important to choose a final resting place. This provides your family and friends with a focal point to assist them in remembering the life that was lived.
What is a cremation garden?
A cremation garden provides a final resting place for your loved one's cremated remains. It is a designated area of the cemetery that may vary from a simple urn garden to a more elaborate area featuring elegant landscapes, graceful water designs and stunning granite monuments. The space can provide a beautiful and comforting experience for the spirit and the senses. Refreshing plants, trees and other natural botanical details may complement the garden. An array of options including family estates, personalized granite pedestals, niche walls, unique benches, garden columbaria and water features may be available.
Isn't cremation less expensive than traditional burial?
There is a wide selection of choices and price ranges for cremation services and merchandise. As with traditional burial, your family will decide how much or how little to spend on a cremation service. If you choose to preplan and prefund your own plans, you can decide what cost is appropriate in advance of the time of need.
With the shortage of cemetery space, isn't cremation a better solution?
There is not, in fact, a shortage of cemetery space. People choose cremation for a variety of reasons. It is a personal decision based on individual preference and beliefs.
Can I plan my own cremation with remembrance and memorialization in advance?
Yes, making plans in advance of the time of need ensures that your wishes will be known. Your family will not have the burden of guessing what you would have wanted or how much to spend.
---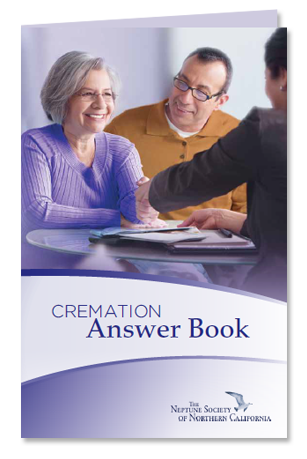 Contact Us Today for a Free Cremation Answer Book
Please complete the form to receive your free Cremation Answer Book.